Parents are often stressed about long journeys with little kids and how they'll be able to sleep. One of the ways to help your children sleep while traveling is having a kids travel pillow – something they're familiar with that also brings comfort.
Are children travel pillows safe?
Travel pillows for children are safe as long as they're used correctly. Make sure to choose a travel pillow that naturally provides support for your child's head and neck according to their size, on top of the comfort.
If you're looking for a travel pillow for a road trip in a car, make sure it doesn't interfere with car seat safety. Most pillows are suitable for children in a booster seat or older. Younger kids can use travel pillows on a plane, train or bus.
What Type of Travel Pillows is the Best?
The best travel pillow is the one that suits your child. I like different ones, my husband likes different ones, my sons like different ones. Pay attention to the color of the neck pillow when choosing one for your child – we all know kids are very particular about the design!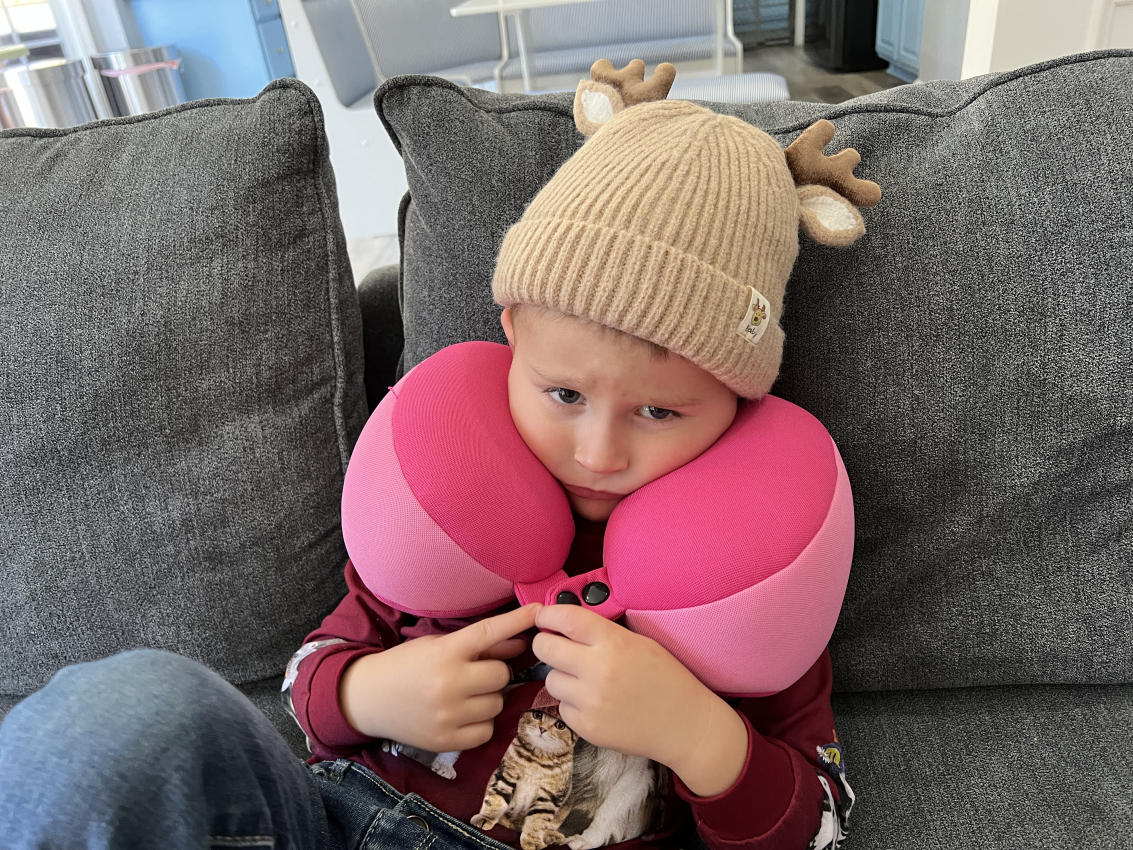 Best Travel Pillows for Kids
Adult neck pillows come in a variety of materials, including down, memory foam, cotton, and synthetics that can wick away heat and sweat. So do the kids ones!
Take into consideration that a toddler neck pillow might be slightly different than a kids neck pillow.
Discover the perfect suitcase option for your little ones. Pay attention to the size, the weight limit, and the online reviews to make the perfect choice for your toddler and family travel needs.
This wrap-around neck pillow provides chin support. The curved custom-made Velcro system enables a perfect fit to a child's neck so kids can lay their head down in any direction.
Lots of colours
Various sizes
Machine washable
---
Kids travel pillow with an ergonomic design that supports the chin on top of the neck.
You can hang on any hooks or secure to a bag and throw it in a washing machine. Your child actually doesn't even need to wear it, he can just lean on the sides if they wish.
The pillow doesn't take up much space in the back, so it's comfortable for seats when the child's head automatically leans forward, but without the need to slouch.
It's also one of the top choices of toddler neck pillow for a car seat, because the back can be flat and doesn't require loosening the straps of the harness (and loosening them would make the car seat naturally unsafe).
One size fits all
Lightweight
Machine washable
---
Homewins is a standard old-fashioned neck pillow, but as it's made for kids it's designed as an animal.
Due to its small size, it's one of the best choices for toddlers and preschoolers. The pillow wraps all the way to the front of the neck and rests around the cheek area.
Many colorful designs
Affo

rdable

100% cotton
---
Kikkerland is not your traditional neck pillow, it's a stuffed animal that can be used as a pillow or turned into a traditional neck pillow.
To turn this into a neck pillow, you unzip the back zipper and pull out the fabric inside (basically inside-out it) and shake the beads around until it becomes a neck pillow
The brand offers a few animals to choose from, but the penguin is the handiest due to its clip. You can clip him to your bag, luggage, or anything.
I actually got my penguin mine before I had kids and my son kidnapped him.
Works for kids and adults
Lightweight and easy to pull
Clipable
---
A slightly different solution that works for just road trip. Farochy unicorn is a seat belt pillow for kids who are either in a booster seat or old enough to use just a seatbelt.
It's very soft, washable and stays soft after washing it as well.
Works for kids and adults
Only works in a car with a seatbelt
Small to pack
FAQ about Kids Travel Pillows for Travel
Can you use a travel pillow in a car seat?
A car seat should provide the cushioning kids need to take a nap and add anything isn't ideal. Kids neck pillow products work best in cars once a child has graduated to a booster.
The most important factor is that most pillows require you to lose the car seat straps to make it work because of the amount of "stuffing" in the back. Losing the straps makes the car seat unsafe, so never do that.
Are you allowed leg pillows on the plane?
The bad news is that many airlines have banned leg pillows. These include Emirates, Korean Air, Asiana, British Airways, South African, Thai, Qantas, Jetstar, United, Etihad, Thai Airways and South African Airways. Singapore Airlines allows it only on specific seats.
Airlines have come out and specifically banned them on safety grounds, but many other airlines have simply said nothing which means it's up to the crew.