The Easter holidays have already arrived, May half term will be here in the blink of an eye and shortly after that, the Summer holidays. And, if you have children, that means finding things for them to do.
Fortunately, if you're visiting the Lake District, you're spoilt for choice. Adventure, attractions, amazing restaurants, the Lake District has it all.
But with May having been declared National Walking Month, we thought we'd focus on the great outdoors, and in particular walking. Here are just a few of our favorite Lake District walks which we've enjoyed with our children. So why not kit yours out with some sturdy walking boots and take them exploring?
Orrest Head
Orrest Head is the perfect 'first summit' to do in the Lake District. Not too long or steep for little legs and when you reach the top, the views across Lake Windermere and the Lake District fells beyond are simply breathtaking.
This is the place where author and fell-walker, Alfred Wainwright, first fell in love with the Lake District. In his autobiographical 'Ex-Fellwanderer', he wrote, "… quite suddenly, we emerged from the trees and were on a bare headland, and, as though a curtain had been torn aside, beheld a magnificent view…".
In fact, he was so enchanted by the view and the sense of opportunity which lay before him, that he went on to write his pictorial guides to the Lakeland Fells.
Orrest Head is situated on the northern edge of Windermere, not far from the railway station and Windermere Tourist Information Centre. The tarmaced path to the summit means it's accessible for those with wheelchairs and prams.
Brant Fill
Staying close to Windermere, our next walk is a relatively short stroll to the summit of Brant Fell. The two mile walk to the top can be quite steep, but like Orrest Head, the reward on reaching the summit is well worth the effort, with views across the lake to Grizedale Forest, the Langdale Pikes and the Coniston range.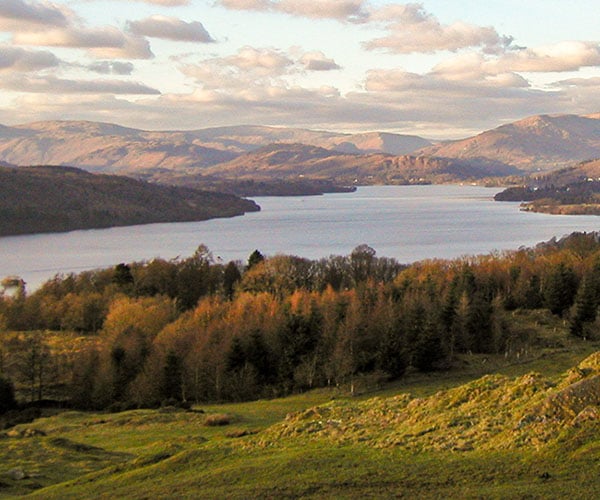 The walk begins in the center of Bowness where you can grab a bite to eat before setting off up Brantfell Road, leaving the hustle and bustle of the town behind you. The early part of the walk takes in the Dales Way which starts some 81 miles away in Ilkley, before passing Post Knott viewpoint on your way to the summit of Brant Fell.
At the top is a rocky crag, only a few feet high, but a new adventure for the children. You will also come across a pair of heavy stone gateposts. These were once part of a viewing platform, long since gone, although the inspiring views remain.
Gummers Howe
At the southern end of Lake Windermere is Gummers Howe, a mini mountain which has long been a firm family favourite. It feels like a mountain and there's even a scramble to the summit should you decide to veer from the path.
The beginning of the walk is a gentle climb through fields and woodland before becoming a little steeper en-route to the summit.
Like Orrest Head and Brant Fell, the views from the top are amazing. In one direction, the lake stretches out before you, dotted with sailing boats and in the other, Morecambe Bay glistens in the sunlight.
This is a walk that will make your little ones feel like mini-mountaineers.
Tarn Hows
The most surprising fact about Tarn Hows is that it's man-made. Its looks so natural, as if it's been part of the landscape for thousands of years. It's also one of the most popular spots in the Lake District. And when you see it, you'll understand why. It is beautiful, a picture postcard in the heart of the Lakes.
What's more, it's a fabulous place for those with young families. The circular path is just under two miles and is ideal for pushchair and wheelchair users. Small beaches add to the excitement, the perfect spot for a picnic, or simply stop at one of many benches are soak up the views.
Air Force
Just above the western shore of Ullswater is Aira Force, arguably the best-known waterfall in the Lake District, as well as one of the easiest to get to – there's a National Trust car park off the A592, halfway between Glenridding and Watermillock.
The Aira Force circular is another great walk for the youngsters. It could take just under an hour, but by the time they've hidden behind trees, marvelled at the 65-foot waterfall and spent time trying to spot red squirrels, it could be almost double that.
For those who want to make it a slightly longer walk, why not take one of the paths which lead beyond the falls to Yew Crag, with excellent views east towards Ullswater. Or you could continue uphill from Aira Force until you come to High Force. Okay, it's not quite as spectacular as Aira Force, but two waterfalls in one day – now that's a day to remember.
---
IMPORTANT NOTICE:
If you are reading this article anywhere other than on A Luxury Travel Blog, then the chances are that this content has been stolen without permission.
Please make a note of the web address above and contact A Luxury Travel Blog to advise them of this issue.
Thank you for your help in combatting content theft.
---
Catbells
At 451m, Catbells is not the highest mountain in the Lake District. In fact, it comes in at 189 when you list the 214 Wainwrights by height. But it's a fantastic walk for children and like most of the walks in the Lake District, the views from the summit are spectacular.
Located on the western shore of Derwentwater, this will feel much more like a mountain than our previous suggestions. It will be challenging at times, with a few steep scrambles, but nothing too technical. And if you're looking to bag all 214 Wainwrights, this is not a bad place to start.
Parking can prove a little tricky, especially at the height of summer, so why not take a Keswick Launch to the Hawes End Jetty and start your walk from there?
Stickle Tarn
If you want something a little more dramatic, Stickle Tarn will not disappoint. It sits below the steep eastern face of Harrison Stickle, with the huge crag of Pavey Ark looming above.
The path to the tarn is steep, running alongside Stickle Ghyll, a welcome distraction if little legs become tired. Towards the top the terrain becomes a little more challenging, with a couple of rocky scrambles, but nothing technical. Pack up a picnic and a picnic rug and spread out on the shore of Stickle Tarn. If you're brave, why not go for a little paddle?
For those feeling adventurous, there are some Wainwrights to be had once you've reached Stickle Tarn. Pavey Ark, Harrison Stickle, Pike'o'Sticle, Thunacarr Knott and Loft Crag are all accessible from the tarn. In fact, many will say that this circuit of the Langdale Pikes should be high on any walker's agenda.
Scafell Pike
Imagine going on holiday to the Lake District and returning home to tell your friends that you've climbed the highest mountain in England. If you decide to tackle Scafell Pike, that's exactly what you'll be doing.
This is not a walk for really little legs. But taking the direct, shortest route from Wasdale Head, the trickiest part of the walk will be crossing the river shortly after setting off, where big boulders act as large stepping stones.
The path to the top is pretty obvious, until you are within sight of the summit where it becomes more of a boulder scramble. This can be tricky to navigate, especially in cloudy conditions, so we would advise that you are accompanied by someone with experience of the Lakeland fells, and in particular, Scafell Pike.
At the top, the sense of achievement is immense. You're literally on top of the world – well England anyway! And as you can imagine, the views are incredible.
That's it. Our favorite Lake District walks with the children. And we've barely scraped the surface. But we think there's something for everyone in this list – from the complete novice to the more adventurous, from little legs to experienced hikers.
Whatever your level of expertise, please remember to pack appropriate clothing and equipment. Walking boots, waterproofs, layers of warm clothing, a rucksack, a first aid kit, snacks, a mobile phone in case of emergencies and, of course, a map and compass. And a camera – make sure you have memories of your day in the fells.
For more information on what clothing and equipment to take with you, click here.
Rachael Thomas is Managing Director of Matson Ground Estate Company Limited, which has a number of Lake District holiday cottages, including Birkdale House. Birkdale House is a luxury Victorian residence at the heart of a privately owned estate in the English Lake District.
If you would like to be a guest blogger on A Luxury Travel Blog in order to raise your profile, please contact us.