When planning a visit to the City of Lights, You're spoilt for choice with historic museums and cathedrals to seeamazing food to taste, quaint cafes to visit, and of course the magical Seine to walk along. But from all these amazing landmarks to visit in Paris, the one that attracts the most tourists is the infamous Eiffel Tower or Iron Lady.
Visiting the Eiffel Tower is always at the top of everyone's list. Seeing the magnificent La Dame de Fer that even Hitler couldn't defeat, is as awe-inspiring from the distance of the Champs de Mars as it is from right in front of it. But the best views of the Eiffel Tower, are those where you wake up in the middle of the night, walk over to the window and look out at the tower standing tall over the sleeping city of Paris.
So when you book that hotel in Paris, look for something where you can Enjoy a glass of wine late in the evening while looking at the most famous landmark of Paris. Or book a hotel where you can wake up to sip your coffee while looking out at La Tour Eiffel!
If You're In A Hurry – Hotels With Eiffel Tower Views
Where is the Eiffel Tower located in Paris?
The Eiffel Tower is situated in the 7th Arrondissement in Paris. This is where the Champ de Mars, Musee Rodin, Musee de l'Armee, and the Musee du Quai Jacques Chirac, Hotel des Invalides housing Napoleon's tomb, and the National Assembly are located.
Also called Palais Bourbon because of the National Assembly located here, the 7th Arrondissement is the wealthiest neighborhood in Paris, having been home to the French aristocracy since the 17th century. You'll also be surrounded by amazing architecture on your way to the Eiffel Tower.
Luxury Hotels in Paris with Eiffel Tower Views
Shangri La Paris
Once the residence of Prince Roland Bonaparte, the Shangri La Palace Hotel offers amazing views of the Eiffel Tower from across the Seine. Elegant rooms and suites are decorated in blue, ecru, and white, a mix of Asian and French decor.
Shangri La features an indoor pool, the only Chinese Michelin star restaurant in France – "Le Shang Palace", a glass-roofed dining room, and a bar serving the rarest botanical spirits. Find out more here!
La Clef Tour Eiffel Paris by The Crest Collection
This Crest Collection Hotel is located in the 16th arrondissement just 900 m from the Eiffel Towerwithin walking distance of the Arc de Triomphe, Modern Art Museum, and more.
Offering a few rooms with views of the Eiffel Tower, the only way to get them is to book an Eiffel Tower Suite. Set in two uniquely decorated buildings with modern decor, the lounge also serves free hot drinks and pastries from 3 PM to 5 PM. Book this hotel here!
Le Meurice – Dorchester Collection
Salvador Dali's favorite hotel in Paris, Le Meurice is located in the 1st arrondissement across the river from the Eiffel Tower. But not only that; it also offers views of the Louvre and the Tuileries Garden!
The onsite Le Dali Restaurant serves exceptional fare from chef Alain Ducasse, while the onsite Bar 228 offers over 300 types of drinks and live jazz music. This 18th-century hotel with traditional Parisian decor is perfect for a royal stay in Paris.
Four Seasons Hotel George V Paris
A stone's throw from the Champs-Elysées, the opulent Four Seasons Hotel George V features three Michelin-star restaurants – the 3-star Le Cinq and the 1-star L'Orangerie and Le George. La Galerie and Le Bar are perfect for snacks and drinks.
Rooms are lavishly decorated while the 17 m pool in the 720 sq m spa is exceptional. Every experience here exemplifies luxury. Make sure you request in advance for a Deluxe room with an Eiffel Tower view!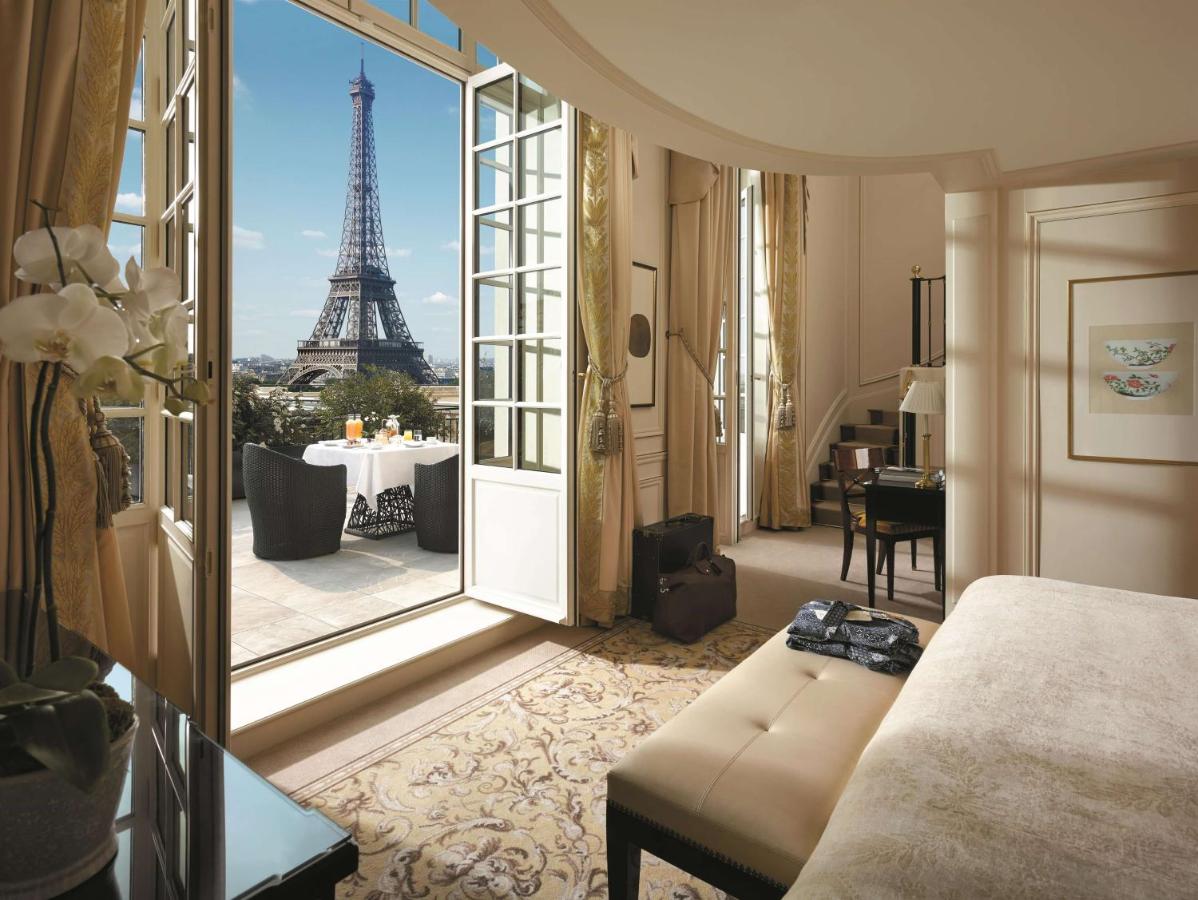 Boutique Hotels in Paris with Eiffel Tower Views
Hôtel San Regis
Once a 19th-century mansionthe San Regis hotel features richly decorated rooms with every amenity just a short walk from the luxury boutiques on Avenue Montaigne. It's also within walking distance of the Eiffel Tower, Arc de Triomphe, Paris Christmas Market, Grand Palais, Champs Elysees, and more. Book one of the Terrace Junior Suites to get perfect views of the Eiffel Tower.
Pullman Paris Tour Eiffel
Located close to the base of the Eiffel Tower, this modern travel sustainable hotel offers brightly decorated rooms with panoramic Paris views. The onsite restaurant features an open-plan kitchen that serves Californian-style cuisine with French flavors. You can choose between rooms with views of the Champ de Mars garden or the Eiffel Tower!
Hotel Le Walt
Close to the Champ de Mars, Rodin Museum, and Les Invalides, the Hotel Le Walt is located less than a km from the Eiffel Tower, on the Rive Gauche in Paris' 7th arrondissement. Chic and charming rooms feature minibars and radios. Ask for a room on a higher floor and make sure you select Classic Room with Eiffel Tower View while booking!
Canopy By Hilton Paris Trocadero
With clear views of the Eiffel Tower from the bar and terrace, the Canopy by Hilton is the perfect place to enjoy your meals or drinks while looking out at Old Paree. If looking out at the city during the day is not enough, you can also get Eiffel tower views from your balcony at night. Do this by booking either the Junior Suite with ET view or the Premium room with ET view.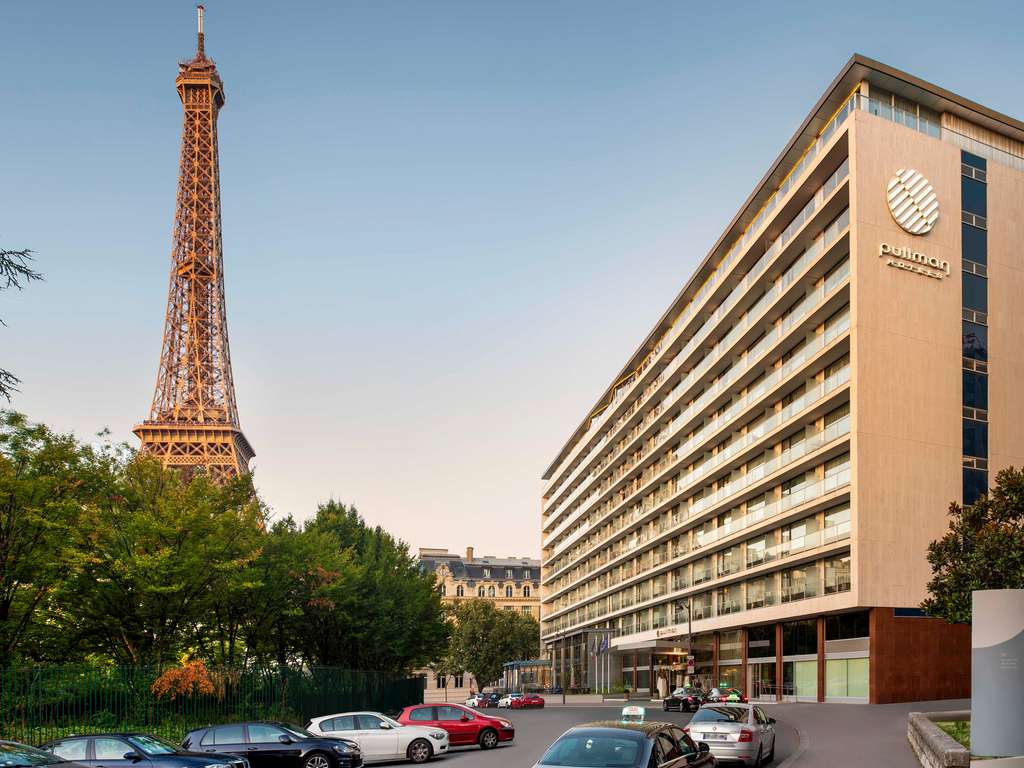 ---
Budget Hotels in Paris with Eiffel Tower Views
Hotel Duquesne Eiffel
This Parisian hotel is located just a short walk from the Parc du Champs de Mars, Les Invalides, Army Museum, Rodin Museum and the Eiffel Tower; and is also close to the UNESCO headquarters. Spacious modern rooms decorated with classy decor are perfect for a stay in the heart of the city. Choose a Premium room for views of the Tower!
Jardins Eiffel
With Pont Alexandre III, Musée du quai Branly – Jacques Chirac, Rodin Museum, Rue St-Dominique, Les Invalides, the Army Musuem and 4 metro stations close by, Jardins Eiffel is the perfect budget-friendly hotel in Paris. For beautiful views of the Eiffel Tower from your balcony book a Premium Room.
Hotel Relais Bosquet
Each of the charming rooms at Relais Bosquet appears to be uniquely decorated, and equipped with free ADSL internet connections. The colorful and cheery hotel is within walking distance of many popular attractions. There's an option to pay a supplement of Euro 30 to upgrade to a Standard or Superior room with an Eiffel Tower view!
Art Hotel Eiffel
This 15th arrondissement hotel is just a km from the Eiffel Tower, and close to Place du Commerce, City Hall, Champs de Mars, and Saint-Lambert Square. The contemporary modern design and wooden decor are chic and super nice. Opt for Double Rooms for views of the Eiffel Tower!
---
Best Hotels in Paris For Families near Eiffel Tower
Finding a hotel in Paris with kids isn't always easy due to strict regulations of the number of people per room. I found out the hard way when traveling to Paris with 2 under 2 who obviously cannot sleep in a separate room yet.
It takes a lot of back and forth, but there are various hotels very kids friends.
---
Other FAQs About Staying Near Eiffel Tower in Paris
Do You Need a Car in Paris?
You can rent a car in Paris and drive with a valid US license of International Driving Permit, but It's better not to drive in Parisunless you're planning on taking a lot of day trips.
While there are plenty of modern roads, there are many small lanes and alleys that retain their historical nature. And then there are the many roundabouts that even confuse the Parisians, plus the trouble of finding parking space. It's not worth the time consumed or the frustration faced while driving to rent a car in Paris.
Which Are The Best Hotels With Eiffel Tower Views?
Hôtel Plaza Athénée – Dorchester Collection that was featured in the series 'Sex and the City' and the Four Seasons Hotel located on Avenue George V have the best views of the Eiffel Tower.
Between these two, Four Seasons is much better, and considering the fact that Plaza Athenee has been boycotted a few times because of the ownership, I vote Four Season – I'll have a full review coming soon!
What Are Some Things To Do In Paris On My Visit?
These are just a few things to add to your Paris itinerary.
Paris is one of the most beautiful cities to travel to, but it's not always a budget-friendly city. To make the most of a stay in Paris book your hotels in advance, especially if you want perfect views of the Eiffel Tower!